The Joker Challenge (GC3GFFN)

Edit
http://www.geocaching.com/seek/cache_details.aspx?wp=GC3GFFN
N 38° 24.395' W 82° 19.845'
LOCATION: Huntington, West Virginia, USA
---
Challenge cache wherein the geocacher must find at least 25 unknown caches after the date of 11 APR 2012. Of the 25 caches, one cache must be a 5-star difficulty, at least two must be a 4.5-star difficulty, and at least three must be 4-star difficulty.
There is also a puzzle component to this challenge cache. Find the issue number of the Batman comic called "Challenge of the Joker". This is issue #136.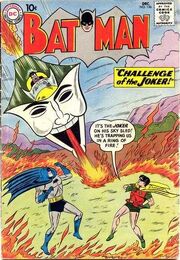 Per the hint, "Adam West minus Batman" is meant to hint at subtracting the issue number from the listed longitude.
Subtract 0.136' W from the listed longitude. The listed latitude is correct and does not need adjustment.
---
---
REFERENCES:Edit